By Sandy Hayden, VP of Outpatient Therapy
The qualified therapists at Wendell Foster's Outpatient Therapy do more than provide speech, occupational and physical therapy services. They also help people accomplish their goals and achieve their dreams. One recent example involves a patient's heart-warming surprise for his fiancée on their wedding day. 
In 2011, 47-year-old John Wethington suffered a devastating stroke as he jumped on a trampoline with his daughter. Following the stroke, John had to relearn how to walk, talk, and eat. John undertook speech therapy at Wendell Foster in 2016. He and speech therapist Samantha Payne have worked on his goals of increasing verbal speech, relearning how to read, and labeling expressive vocabulary. When John began therapy at Wendell Foster, he was engaged to DeeDee Keller, and they later set the wedding date for April 2018. John and DeeDee had their first date on October 3, 2013 and his first words to her were "Time is good!"  "Communication seemed easy for us. We just somehow clicked. Those words stuck with him…that is who John is. That is his spirit," said DeeDee.
Before the wedding, Samantha inquired if John would be interested in reciting his wedding vows to DeeDee on their big day, and John excitedly said, "Yes!" To make sure they had the correct wording for the vows, John and Samantha met with Father Bradley, who performed the wedding ceremony. John began practicing in January 2018, secretly speaking his vows in his car and at home so that he could deliver the surprise to DeeDee at their wedding. John practiced reciting his vows twice before a live audience of therapists and patients at Wendell Foster. Everyone in outpatient therapy was rooting for John!
When the day arrived, John fulfilled his goal and surprised DeeDee when he repeated his vows to her in front of friends and family. "I honestly was so nervous for him. That is not what we practiced at rehearsal," DeeDee remembered, "But he pulled it off. It was so very, very sweet. John always amazes me at how he arranges to surprise me. He works behind my back, somehow communicating to others what he really wants to get done."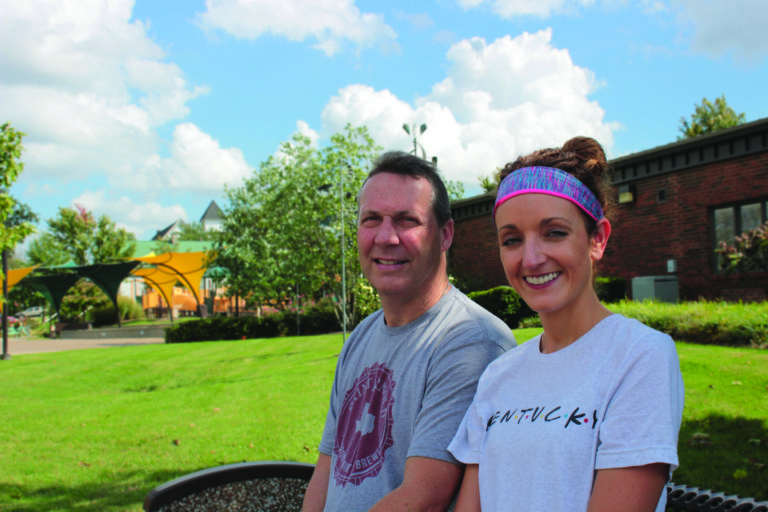 DeeDee said, "When I went through nursing school in the 80's, we were taught that post-stroke, six months was going to show the biggest, most attainable recovery. That is not true at all. John, with the help of his therapist, social life, friends, and family, makes improvements daily. I cannot imagine how frustrating it would be not to be able to say what you want, but John has never given into frustration." 
John recently gave DeeDee another sweet gift by singing "Happy Birthday" on her birthday. "I cannot give enough appreciation to Samantha. She has made a huge difference in John's life," said DeeDee. 
The therapists at Wendell Foster's Outpatient Therapy are always ready and willing to do whatever it takes to help their patients achieve their goals and dreams.
Time is indeed, very good.